Integrated campaign services from DVO.
Integrated campaigns are a cornerstone of DVO's service offering. We're all about an integrated approach because your clients don't distinguish between channels anymore. Our job is to deploy your message at the right time, in the right place to achieve the desired action. We do this by telling connected stories across different platforms and channels in a structured way centred around a digital experience, app or content platform to achieve your objectives.
We follow the cornerstones of integrated campaign methodology.
Coherence: all the elements of the campaign are logically connected and they adhere to the central premise, the "big idea".
Consistency: all the communications adhere to the key points of the central campaign premise optimised for the specific channel but totally consistent with the messaging and purpose of the campaign. In practice they drive the user towards deeper engagement usually in the form of a digital experience, app or content platform..
Continuity: while campaigns change and grow overtime over time, especially if they have a user generated content element, the strong central premise and it's application across platforms allows for long-term continuity. This is important as it extends lifespan, reach and engagement.
Complementary: the considered interaction of communications across platforms allows a momentum to grow and helps the campaign gain a wider audience through social media and sharing. The addition of targeted influencer and blogger outreach further drives social reach and positively impacts organic search traffic.
Below is an example of a channel ecosystem we deployed an integrated campaign across for Hayes and Jarvis.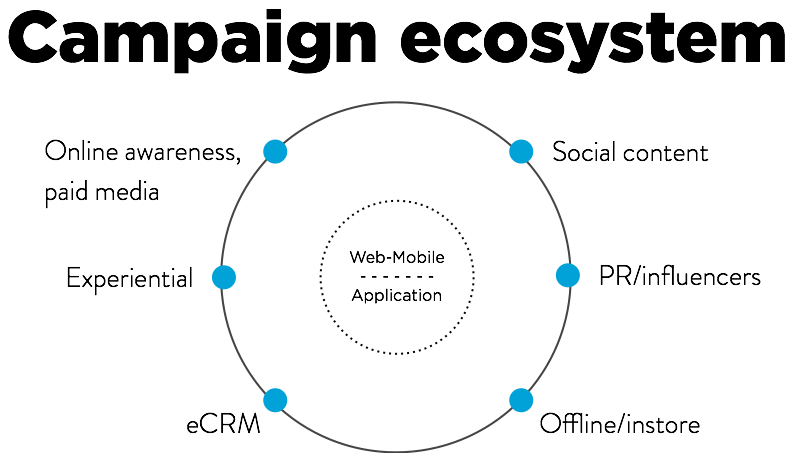 You can see the full case study, here.
The key to all successful integrated campaigns is a unique insight into the perceptions and mood of the target audience. Developed through research and the planning process it's the bedrock on which the best integrated campaign ideas, in fact all campaigns ideas, are built. The strength of this foundation allows the message to work across multiple platforms and gives our media teams the basis to execute truly succesful integrated campaigns.
How can an integrated campaign help you? Drop us an email at iminterested@dvoagency.co.uk or fill in the form below and we'll explain more.